The Great Wentzel Family Road Trip
December 2001 - January 2002
We decided to take a family road trip to visit the Wisconsin Wentzel family for Christmas 2001. Our friends told us we must be crazy to even consider a drive across the country in the winter but we were sure it would be fun. We kept our friends up to date with daily email reports about the trip.
And they're off....the 2001 winter roadtrip
And...they're off!!!
Welcome to the first daily email update from the Winter 2001 Wentzel Family(-1) Trip.
The first day went off without a hitch. We had a mileage goal of ~550 miles (San Jose, CA to Elko, NV).
After a long night of packing and laundry, we had a surprisingly pleasant morning with some last minute vacuuming and file transferring (the music/ebook server - 20 gigs). We were on the road by 10:30 with Ronne taking the first driving shift. Our fears of hitting serious holiday/ski traffic on the way to Donner Pass proved unfounded and we flew past the state line with Kevin doing the curvy, icy driving. There was plenty of snow in the Sierras and we were glad we were traveling the pass today and not yesterday during the storm. We made it over the pass without even thinking about eating the dog, much less each other. Rebecca took over a little past Reno and got us halfway across Nevada before driving into a short but intense snowstorm at Winnemucca. This was Rebecca's first experience driving with snow coming down, so Kevin took over and got us into Elko around 7:30.
Kelsey is a great traveler. This was her first full day of driving and instead of looking miserable in the car, she was relaxed and even played with her squeeky toys and chew bone. She had no real reaction to her first sight (and feel) of snow when she got out of the van. We'll see how she reacts to playing in it another day.
We all have fond memories of the Basque restaurant we went to for dinner during our last stay in Elko, so we went to find it again. The wait for a table was 45 minutes, but with the great people watching in the bar/waiting area we found that it passed in no time. Of particular interest was the 10 year old boy working behind the bar and the drunken cowboys in the corner, complete with hats, bandannas around their necks, boots, and beer bottles. Yup, Nevada. We noticed that Basque cooking uses far more garlic than any of us remembered. MMMmmmmm..... With full doggy bags we went out to warm up the pup-sicle shivering in the van and drove back to our hotel room. By the way, in case you (gentle reader) don't experience it often, let me tell you that 10 degrees F is COLD.
The plans for tomorrow include lunch in Salt Lake City with Terry then a drive across most of Wyoming. The destination for tomorrow night is Laramie.
Nighty night!
- Kevin, Ronne, Rebecca, Jessica, and Kelsey
(attached - picture of the Donner pass sign barely showing above the snow)
Day two - Elko to Laramie
Day 2 of the Winter 2001 Wentzel Family trip was LONG!!!!
Our goal for the day was Elko, Nevada to Laramie, Wyoming (>600 miles).
We woke at 7am this morning to some strange beeping. Kevin's cell phone had run it's battery completely down in analog mode the day before. Good thing too, because we were late! We had hoped to be on the road by 8, but didn't get going until about 8:45. Oh well. Ronne had an uneventful driving shift to the Nevada/Utah state line at Wendover where we stopped for gas and a much needed car wash. It was one of the no-touch ones where the pillar moves back and forth. The first time it went past, Kelsey ignored it but when it sprayed the car with high-pressure water she looked a little startled.
Jessica took over for the next shift. Jessica hasn't regularly driven a car for over a year, so she was understandably nervous about driving the van. However, after some initial rockiness, she did great. It helped that the stretch she drove (Wendover to Salt Lake City) is probably the flattest, straightest part of the entire trip to Wisconsin. The salt flats were smelly as usual, even half frozen and covered with a light dusting of snow.
We were scheduled to meet Rebecca's friend Terry and his mother Pat for lunch at noon. About an hour out of Salt Lake, we realized that we had miscalculated our ETA by an hour because of the time change and called them up. Pat laughingly said that they had thought we would forget the time change and planned accordingly. Lunch was great, and it was so sunny and mild in Salt Lake that Kelsey didn't get at all cold waiting in the car.
Driving out of Salt Lake was much more pleasant than in previous years. The road construction for the Olympics is completed, so we didn't have to deal with super narrow lanes and weird detours. There are purple and yellow Olympic Venue directional signs everywhere. Kevin drove the pass through Park City and Rebecca took over a little before the Wyoming border.
As in Nevada, the speed limit through Wyoming is 75 mph. Rebecca had cruise control set at a consistent 5 mph over, but it seemed that almost everyone else was going at the speed limit. For us California drivers, that was really weird. Going speed limit in California almost guarantees that you will be run over. Traffic was really light. There were lots of trucks on the road but few passenger vehicles.
We stopped for dinner in Rawlins at 8:00, fearful that restaurants would be mostly closed by the time we reached Laramie. We left Kelsey in the car with her sweater on, but she was still shivering when we came back. We saw the subject of today's photo in a hardware store parking lot as we drove out of Rawlins. We doubt that anyone drives it in this condition but it is certainly distinctive.
We drove through a very windy section between Rawlins and Laramie. At one point a sign advised truckers that light trailers were not advised. While the night was clear, there were quite a few spots where the wind was blowing snow across the road. It reminded Rebecca of the fog from dry ice.
It is cold tonight in Laramie. The last temperature we saw was 14 degrees. The radio said lows tonight of zero to 5 below. I don't think Jessica, Rebecca, or Kelsey have ever experienced temperatures that low.
Tomorrow is a long day too. We will spend Sunday night in Omaha Nebraska. Nebraska is a REALLY wide state. If we were Nebraska natives I'm sure we'd know about the irresistible stops along the way but being out-of-staters, we find it pretty flat and boring.
Rebecca, Jessica, Kevin, Ronne, and Kelsey
(attached - picture of a unique truck)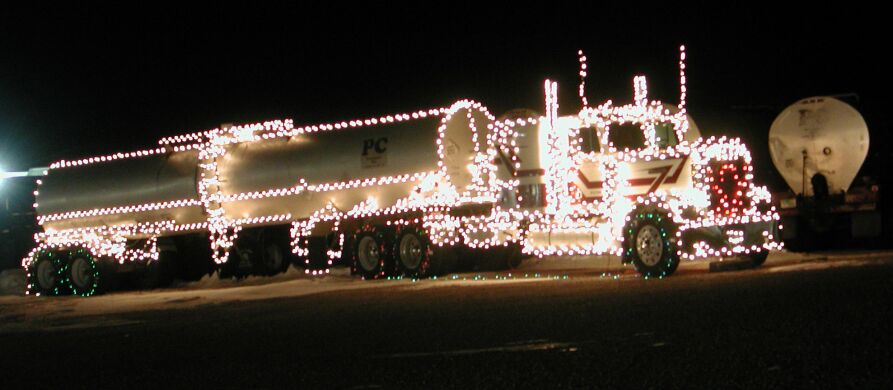 Day 3, Laramie to Omaha
We again failed to set an alarm last night so we left Laramie at about 10 am. It's only about 50 miles from Laramie to Cheyenne but the road goes over the highest spot on I80 in that stretch. This was once called the "Lincoln Highway" and there is a huge bust of Lincoln at the summit. Somehow it seems a little strange to find Abe at 8800 ft in the Wyoming mountains but why not? There are far stranger things to be found along the highways of America.
Today's featured picture is also from this stretch of I80. It is a small but aged pine tree growing out of a rock. This "Tree Rock" was a landmark when the railroad was built across the US and continued to be a landmark during the early part of the 20th century. Supposedly, the Union Pacific diverted the original route slightly to avoid the tree.
The entry to Nebraska from the west has special meaning for the family. In 1988 the new van that we'd been waiting months for was a victim of a train derailment near Bushnell, Nebraska. A month later we drove past the area in a temporary replacement van. (But that is another story.) Stranger yet, we met a family from Nebraska at a friends home last year and found that they not only were from the area but remembered going to the site of the wreck to see all of the ruined cars.
It was a really windy day all the way across the state. We stopped for a snack at about 3:00 pm. The temperature was 37 degrees. I think the wind speed was probably about the same.
I (Kevin) am feeling almost unnecessary on this trip. I'm used to doing all of the driving on these family road trips but this time with four drivers, no one needs to drive more than 3 hours a day. I've never gotten to fully experience the boredom of the trip across Nebraska before.
We all noticed the tourist trap signs. First, before we left Wyoming there was the Cheyenne "Little America", a glorified truck stop. In Nebraska we were repeatedly reminded not to miss Pioneer Village and its 50,000 pioneer artifacts for hundreds of miles. There was a new feature. About in the middle of the state there is a huge ornamental archway across the interstate with signs before it telling us "Monument Ahead, Do Not Stop or Slow Down". It seems to be yet another tourist trap celebrating the westward migration with teepees, buffalo, covered wagons and gift shops with mementos made in Mexico or Taiwan. (Our educated guess - we didn't stop or slow down.)
The girls got a taste of Midwest winter at the motel when they stepped out onto the frozen parking lot and nearly found themselves sitting on the ice. We avoided the pup-cicle this evening by letting Kelsey stay in the motel room on her own while we had dinner. She was a perfect lady as far as we can tell.
Tomorrow promises to be a far more fun day. We'll visit Aunt Carol in Iowa then go on to Grandma's and Grandpa's in Wisconsin. We hit more states tomorrow than any other day of the trip. (Nebraska, Iowa, Illinois, and Wisconsin)
Watch for the next exciting installment of our journal,
Kevin, Ronne, Rebecca, Jessica, and Kelsey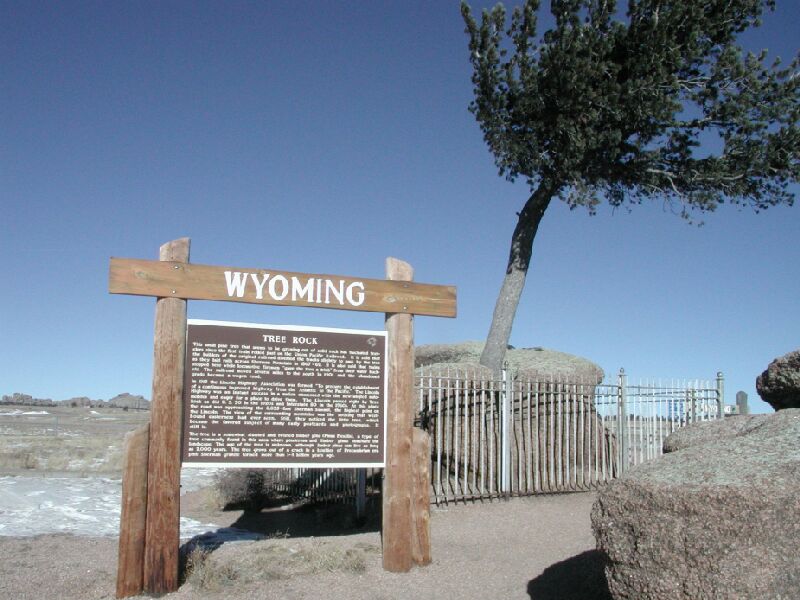 Road Trip, day 4 - Over the river and through the woods...
Did you know that Otis Spunkmeyer of the cookie fame made bagels? (Individually cellophane wrapped) We didn't either. As bagel aficionados, we were extremely sorry to learn this little factoid when Rebecca went down to the lobby this morning to pick up breakfast for all. Anyway, lets just say they filled the stomach but left the tongue uninspired.
We left Omaha a little after 9 AM with an urgent deadline. We were due at Aunt Carol's in Walcott for lunch by 2:30. It was a real shock to cross the bridge and find that the speed limits were 65. After days of 75mph speed limits we felt like we were crawling. Another surprise was that Iowa drivers seem to have a lot in common with California drivers. They were MOVING. We even had a few weavers who sped into tight spaces in traffic to pass.
While we found yesterday's rest stop cold, today ground it into dust (ice dust). The temperature was 21 degrees but the wind was so strong that even hardy Iowans in the cars near us didn't want to get out and walk around. There was a video display in the rest stop building that included a map of wind chill temperatures. The area we were in was around -5 when you counted wind chill. Otherwise it was a very pretty rest stop with plenty of open area and a nice little building.
Our dogs have a habit of surprising us at Carol's house. Kelsey is a very friendly dog who seldom barks. She walked into Carol's house and started barking at everyone. When we said, "Kelsey doesn't bark", Carol reminded us of another dog who was caught boldly stealing food off the table after we bragged about her table manners. Michael (young first cousin once removed - any idea what that means?) was afraid of her at first but warmed up after about an hour. I think Kelsey and he were friends when we left. Megan, (another ......) likes dogs and played with Kelsey right away. There was other wild life around. A wild rabbit had taken shelter just outside the back door. You'd have thought it was a concrete ornament except for the occasional wiggle of the nose.
As we left Iowa to continue to Wisconsin, it started snowing lightly. This seemed entirely appropriate. We were heading over the river and through the woods? fields? to get to Grandma's house on Christmas Eve. A light snow was just right for the mood. After we left the freeway to travel the country roads, we were impressed by all the houses with really great Christmas decorations along the way. Our excitement and anticipation mounted as we got closer to Grandma's house. We passed landmarks from Kevin's youth and heard stories about each one. Of particular interest, the building where the county 4-H meetings were held and the two-room school house where he went to first through 4th grade.
We turned into the driveway to see faces in the windows greeting us. Kelsey walked into the house as if she was at home and greeted Grandma and Grandpa as if they had always been around her. At one point we were wondering where she was and sure enough, she had found the Christmas tree, so tonight's picture is the Christmas tree at Grandma and Grandpa's house.
Tomorrow most of our extended family in Wisconsin/Illinois will be gathering together for Christmas. On that note, we would like to wish everyone a happy holiday of the appropriate denomination.
Signing off from a cozy little house in Racine County, Wisconsin.
-Kevin, Ronne, Rebecca, Jessica, and Kelsey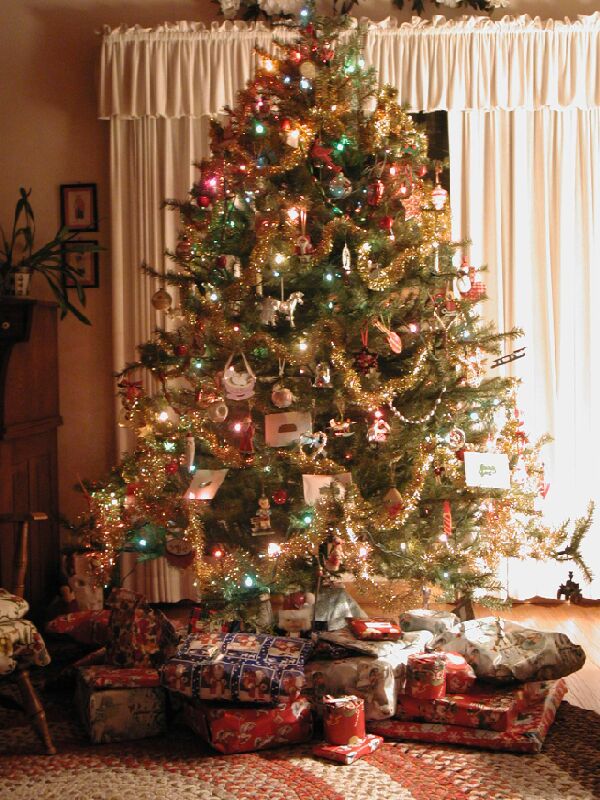 ROADTRIP, The Return! Day one
Welcome back to the Winter 2001 Wentzel Family (-1) Trip.
Relatives started arriving early in the afternoon on Christmas day. Kelsey even got to see Cousin Gretchen, a plucky daschund. Dinner was smoked turkey (Kevin WILL get one for next Thanksgiving), veggies, broccoli salad, potato casserole (great, but don't tell Jess about the cream of chicken soup), and lefse (think potato tortilla with butter and sugar topping, a Norwegian delicacy).
After our meal, we all opened presents around the tree. Of particular note: grandpa's new mouse with no balls (optical), Kevin's motorcycle oil filter from Uncle Rob (hint hint), and personalized silver jewelry boxes for the girls. With all the cousins there (except Amy) a group photo in front of the tree was unavoidable, but came out looking pretty good. Amy may be digitally added later. (look for photos on the trip website; coming soon!)
Other activities during the week included a visit by Uncle Leonard and Mary, taking G'ma and G'pa to see Harry Potter (they hadn't been to the movies since Jurassic Park) (also, this was the theater Kevin worked in as a teenager: it was very changed since then). On Friday we went to Elburn, Illinois to visit Uncle Rob's. Kevin and Rebecca got to see the motorcycle collection and Rebecca won a cousins-only billiards tournament. Kelsey also enjoyed playing with (and butt-sniffing) dog cousin Georgia. On Saturday cousin Beth accompanied us on a visit to Madison and the UW Campus (Kevin and Ronne's alma mater). We'd wanted to visit cousin Barbara and family however they were in Florida visiting her father. We spent loads of money at the Land's End Inlet (outlet) on the west side then drove into town for a look at the campus. We were planning a walk up Bascom Hill to the original UW buildings and the statue of Abe Lincoln however the cold and wind made a visit to the Starbucks at the end of State Street more appealing. Kevin retold stories about California students at the UW who, when they understood the reality of a Wisconsin winter, never returned from Christmas break. We shopped our way up State Street to the Pipefitter, a former headshop now novelty store, where Kevin bought his first waterbed mattress and the Lands End "Not Quite Perfect" store where we bought more bargain clothes. We ended the day with dinner at Portobello's, the ultimate Madison date place and an extremely good Italian restaurant that featured the special mushroom even back in the seventies before it got popular.
Grandpa gave Kevin his gas welding apparatus so we had to innovate on our packing strategy to fit two large tanks, their cart, and the various hoses, wrenches, and torches into the load. We justify the extra weight as good ballast if we encounter snow on the trek back to California. Plans for the set? None immediately; however when you need it nothing else will do and we have lots of car restoration work coming up.
We left Grandma and Grandpa's house this morning with regret and sadness, but we are certainly glad to be on the way home. The trip today was relatively uneventful. We crossed quickly through Wisconsin and Illinois. We stopped on the Iowa side of the Mississippi River at a Welcome Center to research the proximity to I80 of the "bridges of Madison County", deciding to stop there if it wasn't dark by the time we reached them in western Iowa. We had been trying to reach Aunt Carol by both cell phone and email for hours as we approached Walcott. We finally decided to just drop in, knowing that she was expecting us. We got there and found that (as we suspected), the modem connection had been left on and the phone line tied up. After lunch and a nice visit we got back on the road: five hours to go to Omaha. Around Des Moines, we realized that Kelsey was throwing up pieces of her plastic chew bone onto the seat cover and Ronne's jacket. It made for some exciting but stinky moments. It was dark by the time we reached the Madison County region so we passed on the bridges and continued the drive through the darkness and snow flurries to Nebraska.
Kelsey got a much-needed bath soon after we arrived at the hotel fixing both her body odor and her putrid breath, which Kevin discovered when she tried to lick his forehead. Today's picture features Kelsey modeling her new sweater. She had a great time playing in the snow at Grandma and Grandpa's house including slipping and somersaulting half way down the back yard hill.
Tomorrow we head to Laramie. We look forward to an exciting and stimulating Wyoming New Year's Eve.
Kevin, Ronne, Rebecca, Jessica, and Kelsey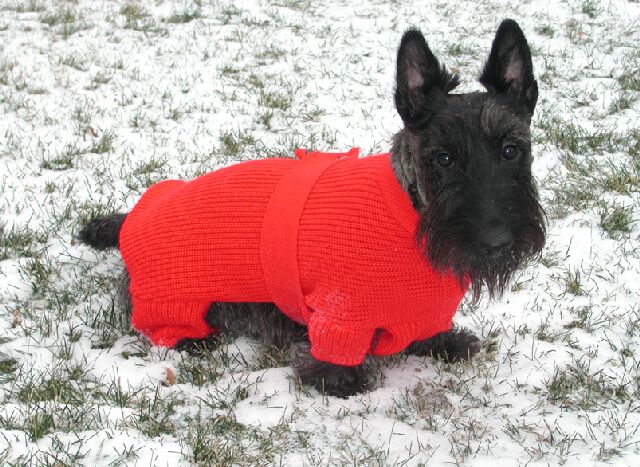 ROADTRIP - The Return! Day two - The Monument of Mystery
Okay, we're tired so lets get straight to the point. This was our trans-Nebraska day so not much happened. In this case, "not much" means precisely five things of note. Interestingly, this was our most photographically productive day.
First, this was Jessica's day to register for Spring Semester classes at San Diego State. She usually does this by internet, but when we stopped at 1:15 in a little Nebraska town to check CDPD coverage, we found that that wasn't an option. We didn't think checking into a motel for 1/2 hour seemed reasonable so she resorted to the cell phone and a horribly antiquated telephone registration system. She did get the classes she wanted at least.
We had all somewhat looked forward to the "archway" in central Nebraska (in order to photographically document this ultimate tourist trap). Therefore, for your viewing pleasure, we present a photo of the Archway. (Again, we did not slow down or stop so please excuse the quality of pictures taken through the windshield.) If you check our trip website (coming soon) we also documented some teepees standing nearby. This time, since we had warning about it we watched for evidence as we approached. There were signs starting about 100 miles before the "monument" calling attention to it and telling us what mile marker it dwelled at.
It was a surprisingly nice afternoon in Nebraska. This was the first day of mild to no wind, so we were comfortable spending more time at rest stops. Sunny, calm, and 24 degrees felt almost balmy. At one rest stop we found a cute little cottontail bunny enjoying the sunshine. It wasn't exactly a moose or buffalo, but in Nebraska you take what wildlife you can find. We took pictures.
As we crossed into Wyoming and headed up toward the pass from Cheyenne to Laramie, it began snowing. Hard! Rebecca had been at the wheel but Kevin, our experienced snow driver, took over. The road was soon covered with snow and we had some low visibility conditions. Each time we got passed, we experienced several seconds of near white-out before we could see even twenty feet in front of the van. We reached the summit and took a break even though we were less than ten miles from Laramie. At 8640 feet this is the highest point on Interstate 80 and there were several inches of snow on the road and the ground. Even the bust of Abe Lincoln watching over the highway looked dusty. Kelsey had a great time playing in the snow and Rebecca annoyed all with loosely packed snowballs.
The trip downhill to Laramie was slow. The road was covered with snow and most of the semi trucks were moving cautiously with their hazard lights flashing. We took it easy too. We did not want to spend the evening in the ditch somewhere. The Holiday Inn looked a bit more busy than it had on the trip out. It seems like quite a few travelers had decided that Laramie was far enough to go on this snowy night.
New Year's Eve 2002 and not a thing to do. Jessica and Ronne browsed the dining guide and Rebecca made 9:30 reservations at the "Cavalryman Dinner House". The restaurant claims to be on the site of the first fort in Laramie however the building itself is not historic. Kelsey had been very woofy at the hotel, so we had to take her with us to sit in the car while we enjoyed seafood and prime rib. We covered her with several blankets as well as her sweater and hoped she wouldn't get too cold (or be dumb enough to uncover herself). The food was good and there was a nice salad bar. We enjoyed a replacement for potato when we were offered baked yam as one of the options. When we got back, Kelsey had managed to pull her little paws into the sweater and looked thoroughly miserable at her immobile plight but she had stayed covered and wasn't shivering. She was definitely happy about our return.
Arriving back at the hotel, we unanimously decided to save the Asti Spumante for another time. We celebrated a Central Time Zone New Years and went to bed.
Tomorrow we go on to Utah and early (we hope) dinner with Terry and family then continue to Elko. We'll see how the roads are.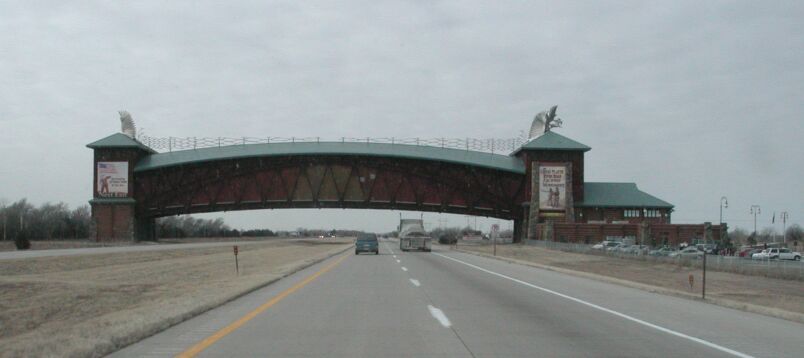 Roadtrip - The Return Day 3 - Snow, Sand, Fog, and Stones
Day three was certainly an eventful day. We started off in Laramie where it was still snowing lightly. We were surprised that I80 had as much snow on it as it did. Most traffic was moving at reasonable speeds though and we never had a concern with slipping. The problem we had was with the sand truck. Yes, I know that the sand is important. (Why didn't we have slippery roads? Sand!) Unfortunately, every vehicle we approached or that passed us threw up pieces of sand that both made the windshield close to opaque and made horrible noises as they bounced off the metal and glass parts of the van. Past Rawlins, the snow cleared out and the last 150 miles of Wyoming were on dry pavement.
A big feature of western Wyoming was the Jim Bridger Power Plant. It put up so much vapor that there was a cloud stretching across the sky from it. I suspect it creates a unique climate around the plant. There were several similar plants in eastern Utah. I think they were chemical processing plants.
In Utah, we had clear sailing except for wet pavement splashing up onto the windshield. (Did we tell you that our washer fluid was frozen? It hasn't worked since Nevada on the trip out. I need to complain to the oil change place that must have topped it off with plain water.) With the sun low in the south west and the windshield full of splashes, visibility wasn't very good. We pulled off at a rest stop and sprayed window cleaner from the spray bottle we carry inside the van.
We had dinner in Salt Lake City with Terry and found a Starbucks to sate our cravings for sweet, flavored coffee.
Driving west toward Nevada we encountered fog so thick that Rebecca (driving at the time) had a really hard time seeing the road. About this time, Kevin experienced pretty intense pain in the lower abdomen. It was strong enough that we looked for medical help in Wendover. Unfortunately, there wasn't anything available there so rather than returning to Salt Lake City we continued on to Elko. It should have been an hour and a half drive but we again found blinding fog on Emigrant Pass between Wendover and Wells. At some points we were down to 30 mph. Rebecca was trying to keep cars in sight ahead to warn about curves in the road, but the fog got so thick over the pass that she lost sight. Rebecca could barely see the lines on the road and they were curving. She started to panic and hyperventilate. Ronne realized what was happening and got Rebecca to calm down. Ronne noticed a sign saying that the summit was coming soon and knew that the fog would thin as we went down to the flats. We reached Wells safely and got to Elko a little after 10. The way to the hospital was well marked, but somewhat far off the highway.
The Hospital in Elko found that Kevin was having his first known kidney stone. Ronne dropped Rebecca and Jessica off at the hotel and went back to the hospital. They did a bunch of tests, gave him a strong shot of painkiller, and discharged him at about 1:30 am. The Hospital was new and clean and the staff were friendly and competent. While we don't recommend adding a hospital stop to your next roadtrip, Elko is a good place to stop if you must.
Wednesday morning: We are getting a late start because of the hours last night however thankfully, everyone is feeling good. The forecast for Donner Pass calls for possible heavy snow later today so we may be delayed again or may just stop in Reno. See how we feel.
Home
It's Thursday afternoon and we are finally at home. There wasn't much to discuss as we crossed Nevada so we skipped the message last night. As we approached Reno yesterday evening, it was raining heavily and the road report said that chains were required on Donner pass. We decided to spend the night in Reno and finish the trip today. It was a good decision. The sky was clear and sunny and while the road was wet, there was no snow or ice on it. The drive back to San Jose was pleasant and easy.